7 Curly Hair Products I'm Loving Right Now
HAFTUNGSAUSSCHLUSS
Dieser Blog wurde nicht von Ihrer zuständigen Gesundheitsbehörde genehmigt und bietet keinen Ersatz für eine professionelle medizinische Beratung, Diagnose oder Behandlung. Mehr erfahren

Dieser Blog wurde nicht von Ihrer zuständigen Gesundheitsbehörde genehmigt und bietet keinen Ersatz für eine professionelle medizinische Beratung, Diagnose oder Behandlung. Der Inhalt dieses Blogs dient nur zu Informationszwecken. Bitte halten Sie bei einer ärztlichen Diagnose oder bezüglich Ihren Behandlungsmöglichkeiten mit Ihrem Arzt oder Apotheker Rücksprache. Die Informationen in diesem Blog dienen nicht als Ersatz für die medizinische Beratung. Die Behauptungen über bestimmte Produkte in diesem Blog sind nicht zur Diagnose, Behandlung, Heilung oder Vorbeugung von Krankheiten zugelassen.
Dieser Artikel umfasst: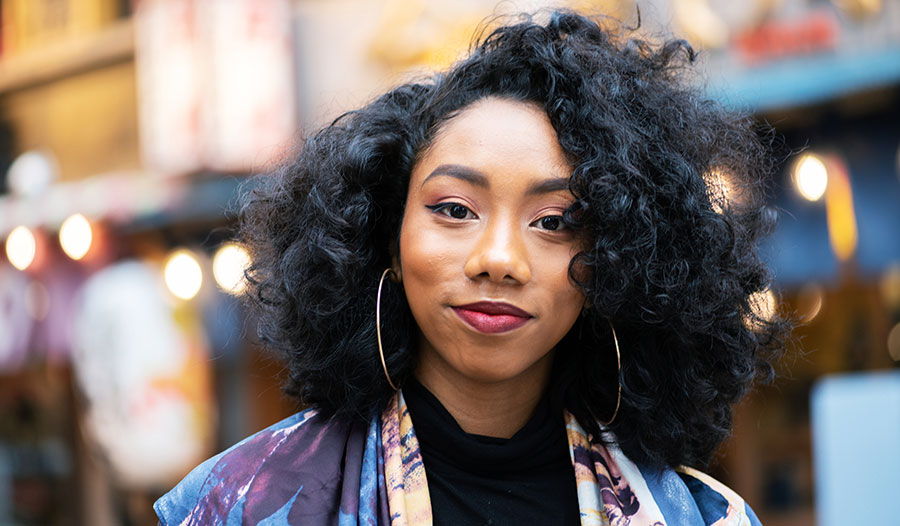 Having curly hair is such a blessing because it is one of the most versatile textures. Without the use of a curling iron, roller sets, or any manipulation whatsoever, you can wake up naturally with hair that looks ready for the day or a night out. At the same time, using heat tools can transform your hair from curly to straight.
My preference for the last decade has been to stick to my naturally curly hair. Still, it has its own set of challenges. Curls require a bit more care and moisture to combat the dryness they endure. That's why I thought I'd give you a sneak peek into my personal routine for curls along with the curly hair products I am using right now.
‌‌‌‌My Personal Routine for Curly Hair
Not all products work the same in curly hair. There are things to consider such as the hair's porosity, density, or whether it's color-treated to give a few examples. Understanding those elements can help you make better decisions on what ingredients, styling techniques, and amounts work best on your hair.
In my case, the individual hair strands are fine, hair density is low, and hair porosity is medium. Additionally, I deal with thinning, so products designed for hair loss are always in the rotation. Moisturizing shampoos, conditioners, lightweight leave-ins, creams, gels, mousses, and foams do best on my curls. I try to steer away from heavy butters and oils that build up and weigh down my hair.
My personal routine for curly hair alternates from what I do on my wash days to how I refresh my curls on my non-wash days. In general, I wash my hair two times per week so I always need a great sulfate-free shampoo, a hydrating conditioner, a deep conditioner (at least once per week), and styling products that lock in moisture, shine, and hold.
When I refresh my curls during the week, a leave-in conditioner and foam will do the trick. Normally, I start by spritzing my curls with water to activate the stylers that were previously added to my hair from wash day. Then, I add a small amount of leave-in conditioner or styling foam to help smooth out the frizz and reclump my curls.
‌‌‌‌7 Curly Hair Products I Love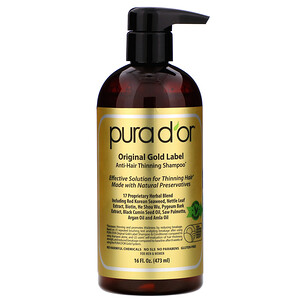 This may not necessarily be a curly hair product but I do happen to be someone with curls that is experiencing thinning. Initially, what drew my attention to this shampoo was that it is sulfate-free. In addition, it contains some non-GMO and certified organic ingredients and a proprietary blend of 17 herbs that helps prevent hair thinning. The Pura D'or Anti-Hair Thinning Shampoo is also free of sodium lauryl sulfate, parabens, phthalates, artificial colorants, mineral oil, petrolatum, common allergens, propylene glycol, formaldehyde, metallic aluminum, triclosan, toluene, and gluten.
In my opinion, the fragrance smells herbal which makes it easy to use for those that prefer a unisex scent. Most shampoos make my hair feel a bit squeaky but this formula made my hair feel moisturized even after I rinsed it out. It could be because the first ingredient listed is aloe vera rather than water.
Like most products made to improve thinning, it will take about 90 days to see the results. So far, I've noticed a nice reduction in shedding but will need a bit more time to know the final outcome.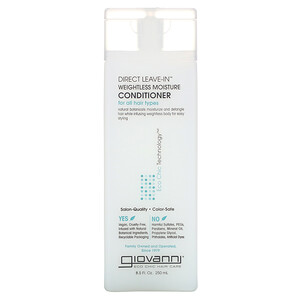 This cult-favorite leave-in conditioner has been on my wish list for a while. Not only is Giovanni family-owned and operated, but the brand has also been around for decades. After several uses, I've concluded that the Giovanni Direct Leave-In checks off many of my needs for the perfect prep. It's lightweight, silicone-free, slippery, and adds moisture to my curls.
In addition, it contains natural botanicals that help moisturize and detangle the hair. The quality of the formula is amazing and comparable to what you might find in the salon.
After using it, I had absolutely no buildup and my curls were springy and defined. I found it works wonderfully on wash day but also to refresh the hair on non-wash days. The result I've had consistently with this is weightless curls that feel soft and look shiny.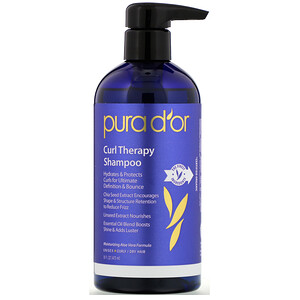 Conditioner is truly a blessing for curly hair. Without it, detangling, softness, and added moisture feel non-existent. As part of my wash day routine, I tried Pura D'Or Curl Therapy Conditioner. I appreciated that the bottle was in the pump form for easy application. Also, it had a lovely fragrance and a thick formula.
This aloe vera-based product is made with 80% organic ingredients, is cruelty-free, color-safe, and hypoallergenic.
The smooth and rich consistency applied easily to my curls. Prior to detangling, I left it on for a few minutes to help soften the hair. It made finger detangling so much easier with minimal shedding. Further, my curls felt nourished and softer than usual after rinsing.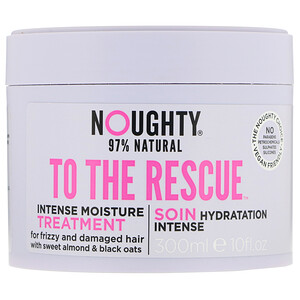 If excessive frizz and damaged hair is the problem, Noughty's To The Rescue Intense Moisture Treatment is the solution. This nourishing and restoring treatment can be added after washing the hair for a short time (3-5 minutes) or longer (up to 20 minutes) to help repair the damage.
With a formula enriched with sweet almond oil, black oats, and argan oil, it provides plenty of slip, making detangling a dream. Best of all, Noughty's products are 97% natural and don't contain silicones, parabens, petrochemicals, or sulfates. Also, they don't test on animals and are vegan and vegetarian-friendly.
One of my favorite ways to use a hair mask is to place a disposable plastic cap on after applying it. Then, I wrap my head in a towel. The natural body heat warms up the formula helping it penetrate into the hair shaft. I make sure to leave the hair mask on as instructed by the directions. The result is extremely soft, manageable hair. Even after rinsing it out, my hair didn't look weighed down or have crazy buildup.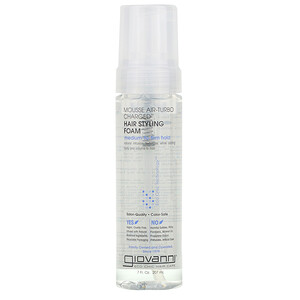 For those of you that have fine-textured, low-density curls, I've found a styling product that is a must-have. The Giovanni Mousse Air-Turbo Charged Hair Styling Foam is designed to add body and volume to the hair. Although it's not meant only for curls, I feel mousses and foams are essential for volume in general.
This foam is lightweight, non-sticky, and dries faster than most stylers. It can be used on both damp and dry hair, which makes it perfect for daily use. On most days I like to air dry my hair but for maximum volume, I use the diffuser attachment on my blow dryer on a low heat and speed setting.
Outside of using a leave-in conditioner, foams are my go-to for refreshing. I like to spritz my hair with a little water first then apply a few dollops of foam in large sections. Then, I scrunch my curls and let them air dry. Because of its lightweight texture, my hair dries much faster than it would using a styling cream or gel.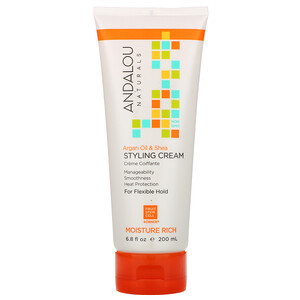 This moisture-rich styling cream by Andalou Naturals works well in dry, wavy, and curly hair. Made with argan oil, shea butter, and their fruit stem cell complex, the fragrance is sweet and reminiscent of an orange cream popsicle.
It's designed to moisturize, support elasticity, strengthen, and make the hair more manageable. Frizz will be smoother and it leaves a soft and flexible hold. In addition, the ingredients are 98% naturally derived, non-GMO verified, vegan, and verified gluten-free.
The directions state to apply this to damp hair then let air-dry or use a blow dryer. A little goes a long way so I found that applying it on the hair from your ends up to the roots is a great way to avoid weighed-down hair.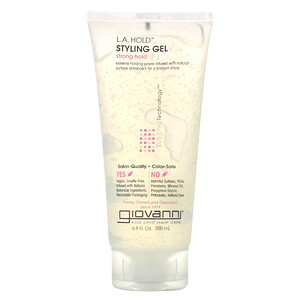 The final step in my curly hair routine is typically a gel. It's important that gels don't feel crunchy, flake, or dry out my curls and fortunately, the Giovanni Styling Gel has been a lifesaver.
This firm-hold gel keeps curls frizz-free and shiny using natural botanical ingredients. It does a great job keeping curls clumped and in place, all while leaving the hair soft and manageable. A pro tip I like to share is making finger coils in the hair after the gel is applied. It's an easy way to get perfect definition plus each curl will appear more uniform.
Giovanni products are 100% vegetarian, cruelty-free, plus they use recyclable packaging. This gel is free from sulfates, PEGs, parabens, mineral oil, propylene glycol, phthalates, and artificial dyes. Plus, it's color-safe.
‌‌‌‌Finding What Works For You
The beauty of knowing what products work for you is that your curly hair routine will become second nature. Through trial and error, practice, and patience, you will discover exactly what works versus what doesn't work on your hair. Further, it will make your styling techniques and any future purchases much simpler.